Delivery
Delivery Model
Digital Lecture studio Digital Classroom has a unique and outstanding delivery model for schools, colleges, universities, training institutes, corporate and the army. Which encompasses:- A completely mobile teaching infrastructure:
Hardware -:- that includes Podium ---, computer, projector, Writing Pad, Camera and Microphone.
Software - Vizclass :- Teach, Capture, Package, Publish and evaluation.
Technology – Broadcast (Virtual Classroom),
Content - Digital Content Library with curriculum based 800+multimedia courses and complete interactive curriculum for Schools, Engineering colleges, Management and It. It also provides you an access to CMS and Online web content which can be of help while teaching.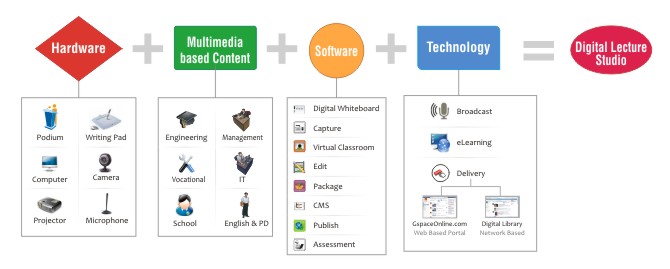 Delivery system- Local server for delivery at institute and internet server for web based delivery.