Introduction
What is Digital Lecture Studio?
Digital Lecture Studio is the world's first unique all-in-one platform that encompasses the hardware, content, technology and software which has a unique model for teaching, capturing and delivering classroom teaching or academic lectures, training centers, conference halls and meeting rooms. It is designed for easy class room teaching, lecture recording and broadcast locally or live over the internet without much knowledge or assistance of IT. Learners can then watch it in real-time or later on-demand view or listen on-the-go with webcast or podcast anytime anywhere.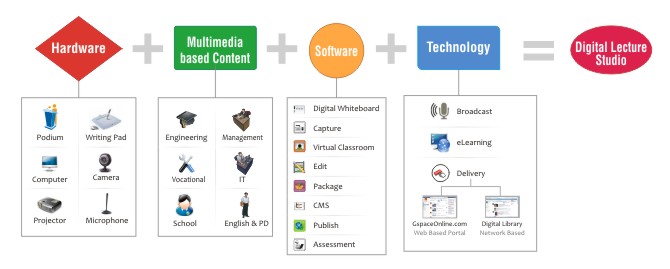 What is Digital Classroom?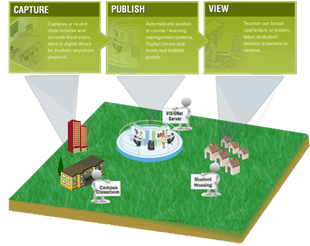 Developments and changes are the laws of nature. Although most of the educational institutions has adopted the Smart Classroom technology they are a way behind the new technology that. This technology has already crept in and it can cater to the needs of diverse spheres like - schools, colleges, universities, training institutes, corporate and the army. This is the outstanding technology that's going to be the face of the new era – the VISIONet's Digital Classroom.
Paradigm shift in teaching
Digital Classroom is a unique solution for knowledge/information transferring and capturing which provides complete teaching and learning solution. It is a methodology that is a way ahead of Smart Classroom and has been designed to overcome the drawbacks and fallouts of the Smart Classroom. In the Smart Classroom concept we did not have any facility to capture or record the classroom lecture. With the Digital Classroom technology you can not only broadcast your lecture live over the local or web based network but capture not only the lecture but the entire classroom experience. Furthermore the teacher can package and publish it and thereafter deliver it either on the local network or on the web based network.
Digital classroom methodology
Digital Classroom provides curriculum based digital content which can be used for teaching and the same teaching session can be captured simultaneously and delivered on web based server or institute server. It can then be broadcast live on to the local or web based server or packaged and kept for reference and use in future. There by providing the reusability of the content that in turn saves the time and energy of the teacher, giving them an opportunity to come up with new ideas and enlightenment on the topic. It facilitates the automatic creation and processing of content. The classroom of the future isn't a classroom. Today's students are to be prepared for a digital world where time and place simply don't matter. Not only the classroom lecture but the entire classroom experience can be captured and can be used anywhere and anytime in future providing the re usability of content. Digital Classroom methodology also compensates for the lack of expert faculty. VISIONet is the pioneer of this cutting edge technology with an ultimate aim to make teaching even more supple and comprehensive.