Digital Lecture Studio for Students
Learning through visualization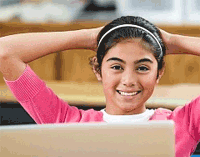 Visualization is in any ways the best way to learn and remember anything. Students can review the recorded lecture any number of time according to their own convenience.
Don't miss a class
If a students happens to miss upon a class, he/she can easily make up for it by watching the recorded class environment.
Exam fever in control
Students do not have to bother during the exams as he/she will have every stuff in his/her bouquet. All he needs to do is to review and revise it.
Self motivation
Students develop self confidence within themselves and are motivated as even they are being recorded – student listening attentively, asking doubts and every thing that he/she does. This instills self confidence in them and coaxes them to be mentally present in the class.
Better understanding of concepts
An added advantage of this technology is that if the student is allowed to view the recorded lecture beforehand, the teacher can utilize the class timings in furthering on the concept and solving doubts if any.
Review via Browser (PC or Mobile Device)
Students can access the live and recorded class repository by logging into Digital Library server or Gsapceonline.com, On-demand, 24×7 day. Students can also playback their courses on computers and mobile devices